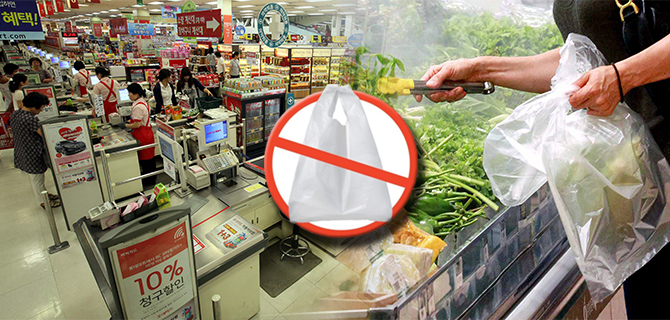 韩国大型超市昨日起全面禁止使用一次性塑料袋,以进一步减少"白色污染"。
韩国环境部昨日起对全国2000余家大型卖场、1万1000个面积超过165平方米的超市、百货商店、综合性商店等进行检查,对提供一次性塑料袋的情况,按次数征收高达300万韩元(3580新元)的罚款,各个卖场可以使用计费垃圾袋、布料购物袋和纸袋替代塑料袋。
韩国从今年1月1日起实行《资源节约和循环利用促进实施规则》,环境部将1月1日至3月31日定为过渡期,4月1日起对塑料袋正式实行管制。不过,鱼类、肉类、豆腐等湿货性质的生鲜产品或粘有泥土的产品仍然可使用塑料袋进行包装。
韩民众表示支持新措施
大型超市不再提供一次性塑料袋的第一天,韩国民众对这一政策表示欢迎,认为韩国人确实需要减少使用塑料袋。
住在首尔的金姓家庭主妇(48岁)说:"我已经习惯带环保袋买菜,所以商家不提供塑料袋,也不会觉得不方便。我车上还放了一个纸箱,如果要买多点东西的时候,就用纸箱装东西,这样购物其实也挺方便的。"
朴姓上班族(35岁)说:"公司从本月起也禁止使用一次性纸杯,今天我带了自己的马克杯上班。我非常赞成政府禁止使用塑料袋,希望政府进一步出台限制商品过度包装的条例。"
不过,朴姓家庭主妇(68岁)说:"鱼类等发生液体泄漏的产品就可以使用塑料袋,什么是发生液体泄漏的产品?我有点搞不清楚,希望超市详细解释。"
根据欧洲塑料和橡胶机械公司的数据,韩国是世界上仅次于比利时的第二大废物生产国,人均产生62公斤的垃圾。
2015年的统计显示,韩国共使用了211亿个塑料袋,其中便利商店或超市的使用率占25%,达52亿7500万个,大型超市的使用率约占8%,为16亿9000万个。韩国人每年会使用约414个塑料袋。
韩国环境部认为,此项措施实施后每年可以节约22亿2800万个塑料袋。
舆论普遍认为,韩国政府这项禁令的颁布,其实和中国政府去年4月全面禁止进口洋垃圾政策有关。过去韩国每年向中国出口约20万吨垃圾,随着中国禁止垃圾进口后,使韩国不得不对塑料垃圾采取措施。
Plastic bags are entirely banned from grocery stores of certain scale across Korea starting next Monday.
The Ministry of Environment said Wednesday it will start site inspection across the country from April 1 to monitor the plastic usage in grocery shops of above the scale of 165 square meters with the sun-setting of a three-month grace period. Violation is subject to a penalty of up to 3 million won ($2,636.44).
Plastic packaging is allowed only for wet, moisture-containing foods (tofu, fishes, shells, and meat), products that can melt at room temperature (ice cream), and vegetables with soil on.
Paper bags with one side coated with chemicals to enhance durability are also allowed.
Small-size supermarkets commanding a site of below 165 square meters and traditional markets are not subject to the new law.
Source: Pulse / Zaobao